As Mel Kiper has proven year in and year out it's damn near impossible to predict the way a draft is going to shake out. Teams get desperate and make unexpected moves that flips everyones boards upside down. Anyway here's my best case scenario in terms of the lion's draft this year, I will also put a consolation pick on who I think we should draft if my first choice isn't available rds 1-3. Feel free to critique.
Rd. 1 pick 23: Mike Adams OT, Ohio State
At 6-6 320 lbs with a wingspan 0f 82.5" Adams certainly looks the part. He's tall and athletic and could start at RT from day 1 and possibly develop into a franchise LT after a couple years.
Consolation pick: Janoris Jenkins CB, North Alabama (In my opinion the most natural cover corner in this class despite being only 5'9)
Rd. 2 Pick 54: Brandon Boykin CB, Georgia
Possibly the best athlete in the draft this guy is just a natural playmaker. Whether it be picking off balls in the secondary, returning kicks or even playing offense, Boykin has the ability to change the outcome of a game. I have a hard time believing that someone with this much talent couldn't come in and atleast play nickle for us year one. Oh yea, did I mention he's versatile?
Boykin's shows off veratility at Senior Bowl
Consolation Pick: Doug Martin RB, Boise State
I know what you're all thinking...really?! Another high draft choice on a RB?? Don't get me wrong, I believe Leshoure COULD be a workhorse RB in the mold of a younger Steven Jackson, and Best COULD be one of the best change of pace/3rd down running backs in the league, but Best may never play another down and Leshoure is unproven. I've read nothing but good things about this guy and he sounds alot like Frank Gore to me.
Rd. 3 Pick 86: Vontaze Burfict ILB, Arizona State
There are alot of mixed feelings when it comes to Burfict. Physically he's a 1st-round talent no doubt. However, I can easily see an immature middle linebacker that doesn't wrap up and constantly goes for big hits falling far in the draft. He gets flagged for way too many personal fouls and has only recorded over 69 tackles once in his career at ASU. Not too mention they often took him off the field on 3rd downs because of his inability to grasp the playbook. Regardless I could see him starting for us at weakside backer after a year of special teams and learning the books.
Consolation Pick: Jarius Wright WR, Arkansas
Quick and shifty WR that runs very precise routes. Burleson's not getting any younger and I wouldn't mind having another version of Titus on our squad to stretch defenses.
Rd. 4 Pick 117: Trenton Robinson FS, Michigan State
Nothing glaring about his game. All around solid player that could develop into a quality starter opposite of Delmas.
Rd. 5 Pick 150: Akiem Hicks DL, Regina
My steal of this years draft. Very raw in terms of technique but is surprisingly agile for his size (6-5, 324). Was set to play for LSU but was involved in some type of improper benefits scandal and headed north to play ball in Canada. Perfect project player for the lions scheme.
Rd. 7 Pick 213: Cody Johnson FB, Texas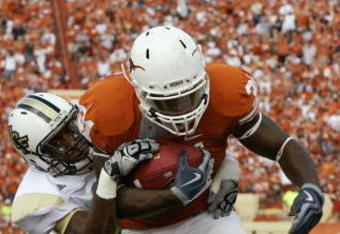 Former running back that ate his way out of the position. Very good athlete, played wildcat QB for the longhorns and recorded 36 career TD's. Even led the team in rushing one year. I know we don't need a FB for our type of offense but I would like to see us add one for a power ground game/short yardage situations.