MGoFish's Final Mock Draft
1st Round: TRADE
- Ship the #23 pick to Baltimore (to draft LB Hightower in front of Pittsburgh) for 1st rounder (#29) and a 3rd rounder (#91)
1st Round, 29th Overall: CB Janoris Jenkins, North Alabama/Florida
- Jenkins is a top 10-15 talent with some baggage (failed drug tests, kicked out of Florida) but he is the player the Lions need. He can lock down and cover better than just about anyone in the draft. If he keeps his head on straight, which I think he would, he could be a superstar in Detroit.
Janoris Jenkins #1, CB
2nd Round, 54th Overall (possibly higher w/ trade): DE Nick Perry, USC
-Perry is projected to go anywhere from the Lions first round pick to the Lions second round pick, McShay and others have him falling to the middle-late 2nd round. If needed, trading up a couple spots is worth it.
His tape is very inconsistent but he has the athletic ability to be a star in the league. With the uncertainty of the Lions DE situation, picking up a stud DE is a great move.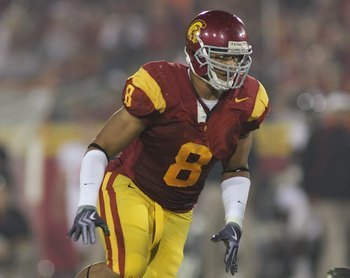 Nick Perry #8, DE
3rd Round, 85th Overall: RB Chris Polk, Washington
-Polk is a beast of a running back that could come in and be insurance to the questioned Lions backfield. He can run people over and catch out of the backfield, which would make him great for 3rd down situations.
Chris Polk #1, RB
3rd Round, 91st Overall: OLB Nigel Bradham, Florida State
-Bradham has the skills to be a stud in the league. He has size, speed, and tackling ability, but sometimes lacks in instincts.
Nigel Bradham #13, OLB
4th Round, 117th Overall: S Antonio Allen, South Carolina
-Allen is a good athlete that can cover and hit. He has played in the SEC, against some of the best wide receivers in the nation. His instincts are very good, and his ball skills are pretty decent. He could come in and compete for a starting spot with a great camp. Reminds me of Pittsburgh's Ryan Clark.
Antonio Allen #26, SS
5th Round, 158th Overall: C Michael Brewster, O$U
-Brewster was seen as one of the best Center prospects coming into the year, but with inconsistent play he has fallen off big time. Still, he could be a big time player with some time to sit and watch a player like Raiola play for another year, possibly two.
Michael Brewster #50, C
7th Round, 219th Overall: WR BJ Cunningham, MSU
-Cunningham was one of the best receivers in State history. He is a solid pass catcher that can get open with his physicality and ability over speed alone. Could be a perfect 4th wide out that plays on special teams as well.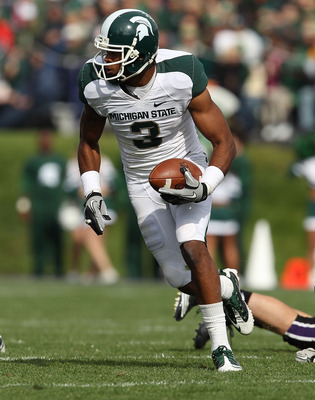 BJ Cunningham #3, WR
7th Round, 230th Overall: QB Kellen Moore, Boise State
-Moore is one of the most accomplished quarterbacks in college football history. He doesnt have the strongest arm in the world, to say the least, but he is very accurate and always seems to put the perfect touch on all of his passes.
Kellen Moore #11, QB
Now, this is not a for sure thing, but as a Lions fan I think this would be a great to perfect draft. Let me know what you think!