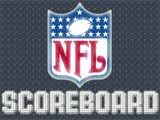 Week 7 may not have gone very well for the Lions, but some other teams stepped it up and made a statement.  Accompany that along with some last-second finishes and you have a recipe for one of the best weekends of NFL football so far this season.  So, with that being said, let's go around the nation and take a look at some scores and mini-recaps from the games of week 7.

Texans Upset Jags 27-7

Although Houston had the 2nd worst passing defense in the league heading into this game, Byron Leftwich couldn't capitalize, and in result, ended up falling way short of getting an all important 4th win of the season.  This win for the Texans is a big one.  Maybe they're finally getting things on the right track.  On one side of things, they are better than the Lions, so that's always a plus.

Bengals Gamble to Edge Panthers 17-14

Marvin Lewis took a big risk in throwing the ball deep on a 4th and 1, but it paid off big time.  The long completion to Chad Johnson setup a touchdown pass to T.J. Houshmandzadeh and clinched a big victory for the Bengals.  Being in a division that is always so close, it's important to get these close wins as every little thing counts by the end of the season.

New England Improves to 5-1 After Win Over Buffalo

Don't look now, but the Patriots are one of the best teams in the league record-wise following their 28-6 win over the Bills.  At the start of the season many were questioning how successful the Pats could be after losing some great players, but year-after-year they've shown that it doesn't really affect them.  Tom Brady continues to play good football, and now that a decent running game is in-place, New England may be on track for another Super Bowl.

Vick's Career Day Helps Falcons Survive Steelers in OT Thriller

I'm sure nobody was expecting the Falcons and Steelers to put up a total of 79 points, especially when Big Ben was knocked out of the game with an injury.  But, that's exactly what the two teams did yesterday.  The shootout in the south you could call it was one of the best games all season as some late missed field goals sent the game to overtime.  Mike Vick silenced some critics with a 4-touchdown performance en route to the Falcons' 41-38 win after the oldest player in the league nailed a field goal attempt.  The Steelers continue to struggle, and with more injuries to Big Ben, may be in trouble.

62 Yard Field Goal Saves Tampa's Season

Tampa Bay's season certainly hasn't gone as originally expected in 2006.  They've lost their starting QB and are on the verge of becoming one of the NFL's worst teams.  That is, until the magic of Matt Bryant's leg struck.  Down late after blowing a lead, the Bucs needed a miracle to beat the Eagles.  That miracle came in the package of a 62 yard field goal by Matt Bryant.  The kick was the second longest in NFL history, and may now salvage Tampa Bay's season and put it on track to get back to winning ways.

Brett Favre Not Giving Up After Packers Win Another

Many thought that Detroit would at least be better than Green Bay when this season first started, but as it turns out, that's completely inaccurate.  Brett Favre may not have as many weapons as he has in year's past, but somehow, he's finding a way to win.  Playing against former Lions quarterback Joey Harrington and the Dolphins, the Packers won 34-24 thanks to some lucky plays.

Field Goal Lifts Chiefs to 30-27 Victory

Don't count out Kansas City just yet.  Even though Trent Green has been injured for quite a while now, the Chiefs somehow have managed to get to .500.  This weekend, they beat the Chargers on a last second 53 yard field goal by Lawrence Tynes, and now improve to 3-3.  The win comes over what some were calling one of the best teams in the league.  Now, San Diego may be in trouble as things aren't looking very good in Charger-country.

Denver Defeats Cleveland Defensively to get 17-7 Win

The Broncos offense has been nonexistent this season as they haven't scored more than 20 points yet, but somehow they have managed to get a 5-1 record.  A defense that quietly ranks at the top of the league just allowed their second TD all season in a win over Cleveland on Sunday. Even though their record is impressive right now, Jake Plummer has got to get things going in order to provide a good playoff run.

Minnesota Blows Out Seattle On the Road

The surprising Minnesota Vikings got another big win after thrashing the defending NFC Champions.  Minnesota went into Seattle and got the 31-13 win in blowout fashion.  Although they did play against a second string QB after knocking out Matt Hasselbeck, the Vikes still looked impressive.  The Bears might want to watch their backs.

Raiders Finally Get First Win of Season
In a battle of ineptitude, the Oakland Raiders finally got that coveted first victory. It may have come over the Arizona Cardinals, who are just falling apart, but a win is a win. At least now people can stop talking about a possible 0-16 season, because that is just down right embarrassing. The bad thing for Detroit is now there isn't as many teams below them for last place in the NFL.
Manning Leads Colts Back in 2nd Half to Stay Undefeated
Not too much was going right for Indy in the 1st half against Washington, but that's why games have 2 halves. In the final 30 minutes of the game, Peyton Manning came out and showed why he's one of the best players in the league by throwing for a few touchdowns to get the Colts a 36-22 win, meaning they remain undefeated for another week.