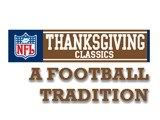 It was announced by the NFL today that the Detroit Lions will host the Green Bay Packers in the early time slot on Thanksgiving (November 22).  The tradition of the Lions playing on Thanksgiving continues despite it being the Lions.  At one time there was speculation that Detroit would be moved to the night time slot on the NFL Network or taken off the schedule altogether.  Luckily though, the Lions are still playing at 12:30 p.m. ET on Thanksgiving.

I really love the match-up for Detroit this season.  The last few years Detroit has played teams that really aren't rivals or anything of that sort, but for the 2007 season the Packers come to Ford Field for the traditional contest.  These two teams have played many times before on Thanksgiving and it will be great to see them on the field again.

Overall, the Lions are 11-5-1 against the Packers on Thanksgiving.  13 straight years the two teams played on Thanksgiving from 1951-1963 and have renewed the rivalry a few times since. This very well could be one of Brett Favre's last games against the Lions, and to play it on Thanksgiving makes it even more special.

Kickoff is scheduled for 12:30 p.m. ET on FOX.