For about a month now, we've heard over and over that the Detroit Lions need to figure out a way to get Calvin Johnson the ball. A variation on this has been the constant complaint that the Lions were not throwing deep, especially to Calvin. This has all been fuel for the haters who think that Calvin is set to decline.
In honor of this week's offensive player of the week, let's look at the six completions to 81 WR Calvin Johnson that gained him 166 yards and a TD. The six catches on nine targets were as follows:
1st and 10 at DET 20, (15:00 - 1st) (Shotgun) M.Stafford pass short left to C.Johnson to DET 28 for 8 yards
1st and 5 at DET 38, (10:32 - 2nd) M.Stafford pass short middle to C.Johnson to CHI 19 for 43 yards
3rd and 5 at CHI 42, (1:18 - 2nd) (Shotgun) M.Stafford pass deep right to C.Johnson pushed ob at CHI 3 for 39 yards
1st and Goal at CHI 6, (0:21 - 4th) Calvin Johnson Pass From Matthew Stafford for 6 Yrds (Touchdown)
1st and 10 at DET 31, (13:37 - OT) (Shotgun) M.Stafford pass short middle to C.Johnson to DET 44 for 13 yards
2nd and 10 at DET 37, (3:55 - OT) M.Stafford pass deep right to C.Johnson to CHI 6 for 57 yards
Play #1: Levels vs. Cover 4 = 8 yards
The first play of the game, Detroit comes out and runs a staple play. Here Calvin is split wide left with 16 WR Lance Moore in the slot beside him. 15 WR Golden Tate went in motion to end up split wide right with 83 TE Tim Wright lined up next to RT 66 LaAdrian Waddle. In the backfield to QB 9 Matthew Stafford's right is 21 HB Ameer Abdullah. The play is a base offense Levels play, which is diagrammed well by Matt Bowen: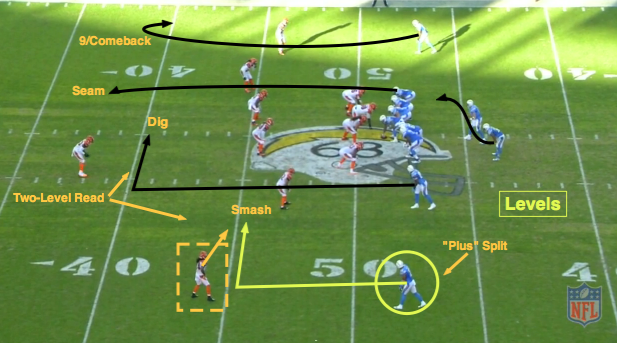 Compare that to what the Lions ran - Calvin split left runs the quick in while Moore's longer vertical stem carries the inside zone defender away. Indeed, Calvin is split very wide - he is standing outside the numbers, giving him room to work on his break to the inside. Here the corner is aligned outside Calvin and will funnel back to his inside help. This defense gives Stafford the quick hitter and he takes it:
Notice at the throw that the area that Calvin (boxed in purple) is going to run into is unusually open. The guy boxed in yellow is the culprit: 58 LB Jonathan Anderson for some reason decides to float to his left instead of right, making it even easier for Stafford to hit Calvin for free yards.
Play #2: PA Deep Cross vs. Cover 3 = 43 yards
Detroit has everyone in snug (10 WR Corey Fuller to the right, Calvin to the left), Wright lined up to the right and 77 Cornelius Lucas checked in as a "second TE" on the left side in a three point stance. The Bears decide to go Cover 3, sending three rushers to hit the "weaker" right side of the Lions' OL where Wright is instead of Lucas, and just 99 LB Lamarr Houston looping around the left end of the OL outside of Lucas. Stafford gives a token fake to Abdullah, who does an amazing job to give Stafford time in protection. Just look at him in the bottom right taking out Houston:
The design of the play is similar to what you typically see out of a bootleg pass: a vertical route clears out the safeties for a deep crosser to hit the vacated space while a checkdown flat route gives the QB somewhere to dump the ball if the defense doesn't bite. Think slow developing China/Sail combo with a token fake. On this play, Detroit has Fuller running the clearout, Calvin on the deep cross, and Wright on the flat. James Light Football has a great example of the Saints doing something nearly identical:
Again, something is amiss here because Calvin has a gargantuan coverage hole to run into. The player of interest is the safety who starts off at the snap near the hashmarks at the Lions logo's back leg, 38 FS Adrian Amos. Both he and 59 LB Christian Jones are caught watching Abdullah while Calvin cut against the grain behind both of them. Stafford hits Calvin in stride, who is then able to make the middle deep third safety miss for a huge gain.
Play #3: Levels vs. Cover 1 = 39 yards
Near the end of the second half, Detroit was driving near midfield with a little over a minute to go. We are in empty gun with Calvin wide right, 25 HB Theo Riddick in the right slot, Wright flexed left, Tate in the left slot and Moore wide left. Chicago shows two high early, but Amos rocks down and reveals they are single high with man coverage across the board.
Everyone boxed in yellow is in man coverage on one of our five eligible receivers.
But wait, just look at how tight the coverage is - it's all loose man except for the guy in front of Calvin: 21 CB Tracy Porter. 29 S Harold Jones-Quartey is favoring the Calvin/Theo side, presumably allowing Porter to roll up closer while the Wright/Tate/Moore side is playing looser with less expectation of deep help. The purple line shows you what Jones-Quartey actually did on the play. Why did he drift away from the Calvin/Theo side? Watch Matthew Stafford's head:
Stafford looks Jones-Quartey off, and now it's Calvin versus Porter one on one with the deep help lagging. Throwing it up to Calvin is a pretty good gamble here, and Calvin delivers. Also worth noting in the GIF is 72 LG Laken Tomlinson. Check him out picking up 90 DT Jeremiah Ratliff in the twist game like a champ. Okay, I know it wasn't designed and Waddle gave Ratliff a shove, but whatever - Tomlinson picked him up!
Play #4: Slants vs. Cover 1 = 6 yard TD
At the end of regulation needing a touchdown to take the lead, Detroit was knocking on the door with under a minute to go. To this point in the second half, Calvin had not caught a pass, but Detroit ran a variant on all slants to isolate Calvin on the back side. Now, the interesting thing here is that Theo started out lined up outside of Calvin way to the left and then Stafford motioned over for him to come back inside to set in the backfield. 29 S Harold Jones-Quartey mirrored him all the way from that wide split to the backfield, and the entire defense shifted to Theo; this is why you can see 59 LB Christian Jones pointing and gesturing for the other defenders to move over and adjust.
At this point, Stafford pretty much knows he is going to have Calvin in man coverage with room to work along the back of the end zone. Theo actually pops open underneath as a trailer into the space Wright cleared out with his route, but the formation shift by Theo has turned this into the Lions' version of a 1-4 isolation play: Stafford is tracking Calvin the whole way, and our guy is gonna beat your guy. The ball is delivered high and over Jones-Quartey (unlike the disastrous throw against Denver), and the Lions briefly take the lead.
What's going on down on the other side of the field? What about those two guys outlined in purple? It seems like someone is on the wrong assignment here - Chicago has a free defender not matched up on anyone underneath and only one deep defender who is away from Calvin Johnson's side of the field. Seriously?
That's 38 S Adrian Amos and 58 LB Jonathan Anderson. If these names are starting to sound familiar, they should... but we'll get to that in a bit.
Play #5: Hi-Lo vs. Cover 4 = 13 yards
Early in overtime, Detroit runs a Hi-Lo combination over the middle against 4 deep coverage. In probably the easiest first down pickup during the entire game, Stafford had Calvin wide open right in front of him. Tate wide left and Moore wide right carry the perimeter defenders down the field while Theo running a wheel route to the right helps clear out anything underneath. The Hi-Lo combination is Calvin running the low from the left and Wright running the high from the right.
What ends up happening is the middle underneath zone defender gets turned (boxed in red) while trying to get over to cover Wright down the seam. But this means there's nobody left in the middle of the field to cover the low (Calvin) since the defender the hi-lo is attacking (58 LB Anderson) commited to taking away the high (Wright) route. Just how open was Calvin?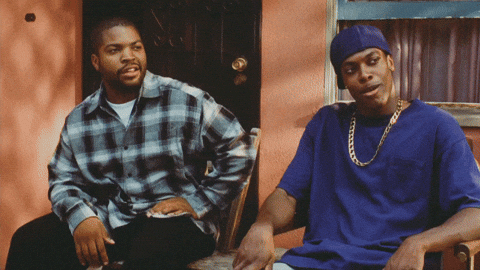 Play #6: PA Naked Z Sail vs. Cover 3 = 57 yards
Another play action sail route combination, this time with a trail: Calvin runs a vertical clearout while Tate comes in behind him on a corner route to the frontside where Stafford is rolling. Coming in behind Tate is a trailing Lance Moore, who is running a deep cross with a similar angle to Tate's route. For an idea of what it's supposed to look like, here's a capture from Sean Payton's 2000 Giants playbook:
So yes, Stafford runs out of the pocket on this play and gives Calvin time to get downfield, but this was a designed rollout. Wright gets away with an awful hold, but let's set that aside for now and look at what else is going on in the play:
First, notice that Calvin is running vertically and never lets up. He's not looking back and seeing his QB in trouble and then improvising - this is his assigned route on the play, and he's running it perfectly. It's just another thing that shows this isn't a busted play and supposed to work this way. It only looks like Stafford salvaging a busted play because 97 LB Willie Young completely dominates Wright and almost gets the sack.
Second, as Stafford rolls out, look away from the offensive backfield and instead at the bottom right of the GIF in the defensive backfield at the safety. 29 Harold Jones-Quartey is very deep and in good position to take away the vertical clearout when Golden Tate crosses his face on the sail corner route. Jones-Quartey abruptly changes direction to try and close with Tate when he realizes there's nobody behind him and Matthew Stafford has a cannon arm... and Calvin Johnson is still running his way without letting up. He has to reverse direction again when 23 CB Kyle Fuller passes Calvin off (you can see Fuller point when he stops running with Calvin to cover Tate).
How excited should we be?
It's very cool that the Lions won an explosive game in dramatic fashion and Calvin Johnson was offensive player of the week, but if we're going to keep it real, we have to acknowledge this was a depleted Bears defense:
I get that a lot of success in football is taking advantage of the opponent's weaknesses, but this was an extremely favorable situation for the Lions to break out offensively. Most of the big plays to Calvin consisted of picking on those rookies - It's not like we're going to see inexperienced UDFAs starting all over the place every week. Just because we got big plays against these young guys doesn't necessarily mean were going to be able to do the same things each week and always be successful:
Execution was better and Detroit was able to get good production from core plays the offense needs to run well, but it's much too early to call the offense "fixed." I have a feeling it's going to be a hell of a lot tougher against Minnesota.
Still, I hope everyone is enjoying the win. We sure needed this.