Welcome back, fantasy football degenerates.
Just about a week ago, there was nothing left to talk about when it came to actual football. Every angle had been exhausted, the talks of Matthew Stafford's contract extension had driven me to the edge, and nothing of any importance was taking place when it came to real football. Apathy had taken me over and I was genuinely bored with the offseason.
That was until I received an email from my fantasy football league commissioner, asking for the dates I was available to draft. Suddenly, my life mattered again.
Plenty has been made about training camp, seeing the players participate in drills and such, but whoopty-doo, what does it all mean?
It means it's time to talk about the stuff that actually matters in football: arbitrary point values, projections, and average draft position to name a few. It's fantasy football, and your draft is quickly approaching. Let's get you ready for it.
---
Last year, we had the "2016 Guide to Crushing the Competition," my first foray into making fantasy football projections. The nicest thing I have to say about it? It turned out to be definitely less than a disaster. Some things good—like correctly predicting Aaron Rodgers, David Johnson and Rob Gronkowski to be the best players at their respective positions. Some things bad—like having Eli Manning in my top ten quarterbacks, and some things downright awful—like believing Adrian Peterson could outrun Father Time.
The past, as we like to say in Waterford, Michigan, is the past. Let's not waste time looking back when we could be preparing for the future and all of the wonderful things it holds for us—like championship trophies, bragging rights, and workplace superiority over superiors.
The 2017 Guide to Doing Better than Last Year
Group "I was right about it last year, why would I change anything now, especially since he's back to being romantically involved with football?"
1. Aaron Rodgers
If it ain't broke, don't fix it.
In 2016, Rodgers returned to form and proved he's the best quarterback when it comes to fantasy football.
While Green Bay experienced some rocky waters as a football team—losing five of six games in the middle of their schedule—it was Rodgers who righted the ship with his sensational play. Scoring 44 total touchdowns, throwing for 4,428 yards and rushing for a career-high 369 yards was more than enough to make him the most valuable quarterback in fantasy.
Among quarterbacks in 2016, Rodgers finished first in fantasy points per game, tied Drew Brees for the most games of 30+ fantasy points, and finished first among quarterbacks in fantasy points scored in Week 11, Week 16, and Week 17—he was a top ten quarterback in terms of fantasy points in all but five weeks last year.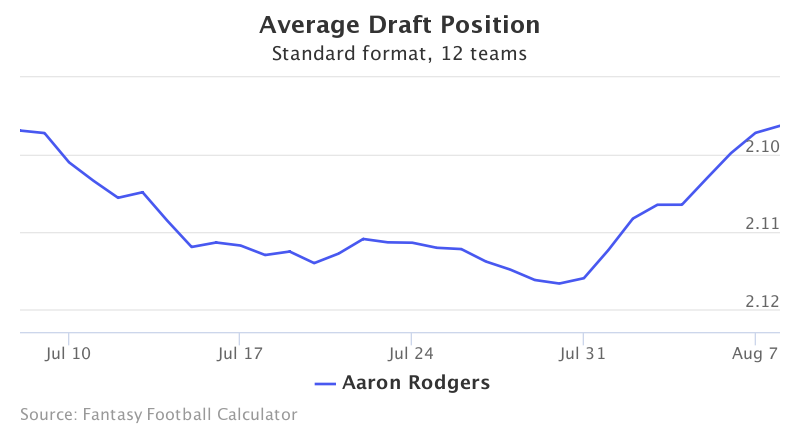 Rodgers average draft position (ADP) has fluctuated a bit over the past month, peaking at 22 overall, dipping to 24 overall last week, but has since evened out. It wasn't much of a slip, but it's possible people think each of the teams in the NFC North have improved their defense, at least marginally, all while the Packers have failed to address their "need" of a running game and lost multiple starters along their offensive line in free agency.
Though it seems like Rodgers has lacked a running game due to Eddie Lacy's oft-injured body and no names like Ty Montgomery leading the way, the Packers have finished in the top ten in rushing DVOA for the past four seasons. The Packers run the ball in an efficient way to set up the pass, and I don't think there's any changes being made to that model come this season.
It's true that Green Bay did a little reshuffling along their offensive line this offseason, most notably losing JC Tretter to the Cleveland Browns and T.J. Lang to the Detroit Lions in free agency, but this isn't anything new in Packtown. They've dealt with moving pieces in front of Rodgers before, and there's nothing to convince me they can't do it again.
2. Tom Brady
It was difficult to put a finger on Brady's fantasy value last season. With the four-game suspension sticking to Teflon Tom, fantasy owners were left wondering which round was too high to take a quarterback who wouldn't play for an entire month. As a result, Brady was the 7th quarterback off the board on average, slipping all the way until the sixth round in standard 12-man leagues.
This season, none of that type of speculation will cloud the judgment of owners, and Brady's ADP this season proves that even at the age of 40, he's still a commodity in fantasy football: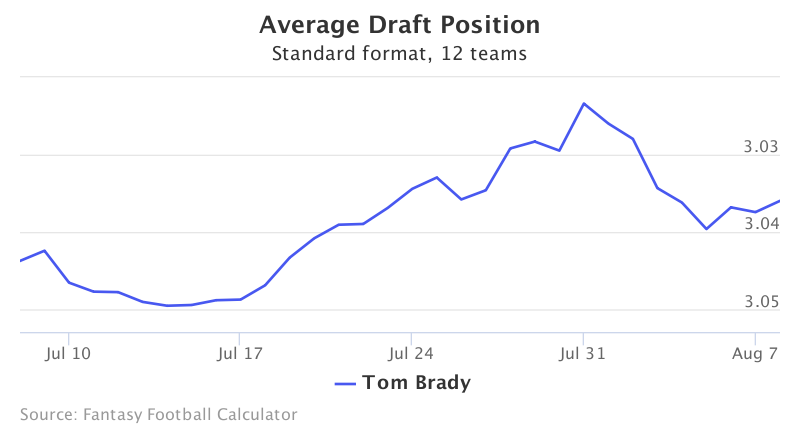 Much of the excitement surrounding the Patriots this offseason was a trade they made with the New Orleans Saints leading up the 2017 NFL Draft, which saw the Patriots exchange their first-round pick, 32nd overall, for Brandin Cooks, a receiver who has every bit of the athleticism and playmaking ability to have people conjure up those thoughts of 2007.
I'm not ready to liken the potential Brady and Cooks click in 2017 to what Brady and Moss pulled off a decade ago, but I will say alongside Julian Edelman and a healthy Rob Gronkowski, it's hard not to imagine the possibility of this offense being historically good.
An underrated signing by the Patriots this offseason that should get fantasy owners excited is the move to nab Mike Gillislee from the division rival Buffalo Bills. Gillislee ranked first in DVOA among running backs in 2016, averaging 5.7 yards per carry and scoring eight rushing touchdowns on just 101 total carries. Alongside Dion Lewis, if he can stay healthy, Brady is spoiled with weapons at his disposal, and should have an incredible 2017...
Oh, that's right, this happened—and of course, Brady threw caution to the wind.
Group "Don't draft this guy until you have your RB1 and WR1—or if you like putting dirt in your Sprite"
3. Russell Wilson
According to Doug Baldwin, Wilson ain't "chubby" anymore, so expect a bounce-back season from the most boringly good quarterback in the NFL.
Group "Literally the NFC South"
5. Matt Ryan
6. Cam Newton
7. Drew Brees
8. Jameis Winston
Call it a serendipitous, call it pigeon-holing, call it whatever you want, there are some very intriguing circumstances surrounding the quarterbacks of the NFC's most southern division for a variety of reasons.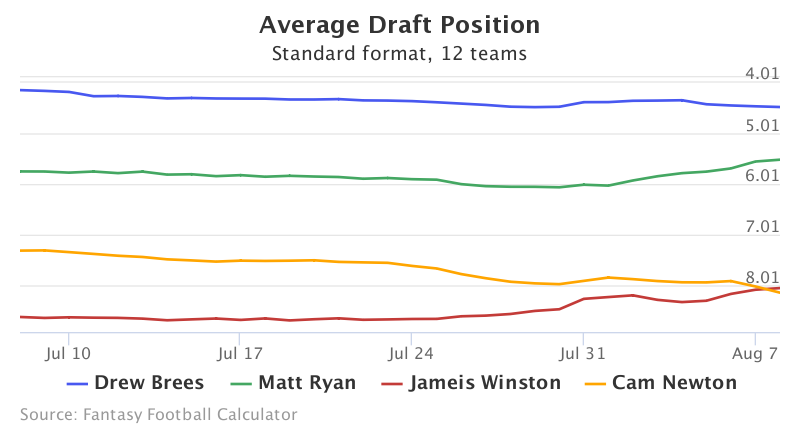 Let the record show that Matt Ryan's all-time, insanely good 2016 season still has me gassed up, and I may be slightly hedging my bets by projecting him to finish in the top five among quarterbacks in FPts/G scored for the second straight season—something he's never done in his career.
Forget about Kyle Shanahan, forget about the the Falcons blowing a 28-3 lead—but don't actually ever forget that because holy shit. Atlanta has so many talented players around Ryan that it will take some serious chicanery to keep him from finishing outside of the top five in 2017.
Brees' pre-draft value this season is a bit overinflated due to his pedigree. Just to clarify before Saints/Brees fans throw a tiff, Brees is a fantastic quarterback, especially when it comes to fantasy production, but this just isn't going to be another year where he ends up among the elite.
Is it so completely crazy to think he shouldn't be considered a QB3, as ESPN has him ranked in their fantasy projections for this season? The Saints' offensive line has already been bitten by the injury bug this season, with starting center Max Unger suffering an injury to the Lisfranc area of his foot. After the Unger surgery, the Saints franchise left tackle Terron Armstead tore the labrum in his left shoulder. Unger is expected to return before the start of the regular season, but those Lisfranc injuries can be tricky, and Armstead is expected to miss a large chunk, if not all of the regular season.
Almost Famous Jameis was already well-equipped with some uber-talented receivers in Mike Evans and last year's breakout tight end Cameron Brate, but that didn't stop the Buccaneers from getting Winston some more help.
DeSean Jackson adds some big-play ability to Tampa Bay's offense after leading the NFL in yards per reception last year (17.9), and rookie tight end O.J. Howard, a top-five talent from Alabama that slipped all the way to the Bucs at No. 19 overall for no good reason at all, has all the physical attributes and athleticism to make him one of the best in the NFL.
Winston could be this season's version of what Matt Ryan did for fantasy teams a year ago, but it's going to require him to clean up the turnovers that have ultimately held back his fantasy value.
A new and improved version of Cam Newton arrived to camp, shedding some weight and readying himself for a Panthers offense that will likely look much different from what we've seen in recent seasons. Less run plays designed for Cam could knock some of his value, but hopefully it will keep him healthier throughout the season.
Group "Can't get a contract extension because ¯\_(ツ)_/¯"
9. Matthew Stafford
10. Kirk Cousins
Group "PUP"
11. Andrew Luck
Even though things are still up in the air when it comes to the status of Luck's shoulder, it could be a disastrous to anyone's fantasy draft if he stays on the PUP list to start the season, especially when you consider his ADP—ESPN has him around 73rd overall.
Obviously, the Colts are going to be extremely cautious in bringing back their franchise quarterback from offseason shoulder surgery. Likewise, you should also exercise caution when deciding when to take General Andrew Luck in your fantasy draft.
Group "The New Guard"
12. Dak Prescott
13. Marcus Mariota
14. Derek Carr
Any of these three guys could finish in the top five in fantasy points scored among quarterbacks at the end of the season, and that wouldn't surprise me, so there's some real potential for at least one of them to dramatically outperform their draft position.
Prescott, Mariota, and Carr are all spoiled with talent across their respective offenses. From skill position players to the offensive line, each of the three are in great positions to succeed—think the polar opposite of Jared "Where does the sun set?" Goff.
Group "Strictly 4 tha God"
15. Tyrod Taylor
I'm really over the Buffalo Bills and their bullshit. After they spent the offseason giving Taylor the runaround, they decide to take him back after realizing free agency is no place to find a quarterback, and you know, probably figuring out he's actually a pretty solid quarterback.
Taylor had quite the season from a fantasy perspective last year, finishing ninth among quarterbacks in FPts/G. His passing numbers were respectable—a 17:6 touchdown to interception ratio—but much of Taylor's value is in his legs. In 2016, Taylor had the most rushing yards of any quarterback with 580 yards on just 95 carries—good for an uber-efficient 6.1 yards per attempt. He also scored six rushing touchdowns, tied with Dak Prescott for the most by a quarterback last season.
The news of Sammy Watkins giving fans an injury scare at Bills' camp shouldn't scare you away from Taylor: Watkins has missed time over the past two seasons and Taylor's production hasn't experienced so much as a hiccup. Also, with the Bills signing the sure-handed and red zone weapon Anquan Boldin to a one-year deal on Monday, his presence should help lower the 3.1 percent drop rate Buffalo finished with in 2016.
Group "The 2004 NFL Draft class"
16.
Ben Roethlisberger
17.
Philip Rivers
18. Eli Manning
Talk about a group of players who all come with fantasy disclaimers.
For Roethlisberger, is he going to give you 16 games worth of production for the first time since 2014? Not so coincidentally, 2014 was his best season from a fantasy standpoint, and one of the four seasons where he finished in the top 10 among quarterbacks.
With Martavis Bryant back—you know, the guy who let Roethlisberger down—and a healthy and unsuspended group of the league's top skill players, it could be another season where Roethlisberger outperforms his ADP, which has been slipping steadily since the end of July: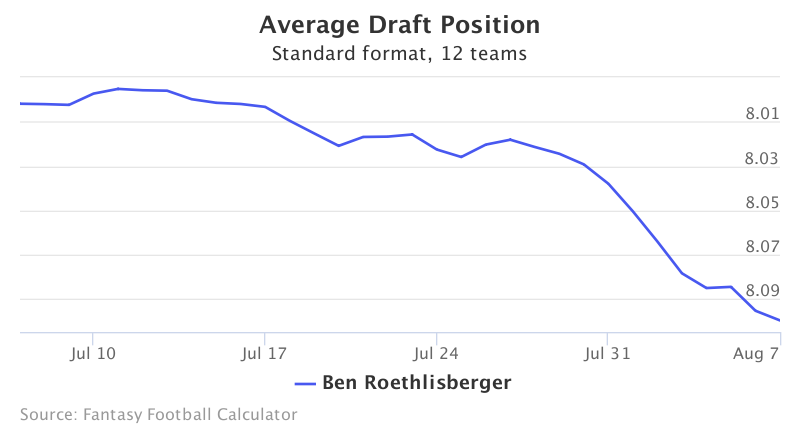 When it comes to Rivers, will his skill position players stay off of IR long enough to make an impact? Last season, the Chargers had 61.7 adjusted games lost due to injury on offense, and that was the fourth most in the league.
Instead of sitting around and feeling sorry for themselves, the Chargers went out and drafted Mike Williams in the first round of the 2017 NFL Draft to play opposite of Keenan Allen—should he ever manage to stay on the field—but because it was the Chargers who picked Williams, he's already dealing with a serious injury, and now Chargers fans are probably sitting around and feeling sorry for themselves.
And lastly, the single Manning remaining in the league. Last year, the Giants' had an appliance repairman moonlighting as an NFL head coach, and it was him and Manning who fooled me into thinking they could whip up some real magic with all of their weapons on offense. The numbers showed it, the talent on the field alluded to big things and then the season happened. I hate when that happens.
This year, these jerks in the Giants front office are doing it again, trying to see me buy everyone's Eli Manning stock and go belly up. They even added legitimately interesting players to the mix in veteran receiver Brandon Marshall and rookie tight end Evan Engram—who is basically a 6-foot-3 wideout when it comes to measurables—but nope, not me. Not again. Eli Manning is a triple sell to me. It's not happening this time.*
*I'll eventually pick up Eli Manning at some point in this season because I'm still an idiot.
Group "Bye week darlings"
19. Carson Palmer
20. Andy Dalton
21. Sam Bradford
22. Alex Smith
Group "I want to trust him more, but I have to see it first"
22. Carson Wentz
If I had a fantasy football related religion I belonged to this season, it would be Wentz Agnosticism. That's telling in and of itself.
An interesting statistic about Wentz: he attempted 612 passes in his four-year college career at North Dakota State, but during his rookie season with the Eagles, Wentz threw 607 passes. He developed some elbow soreness over the course of his rookie season that could have been related to his throwing mechanics, something that's certainly possible when he's never thrown a football that many times in such a short period of time.
With the changes the Eagles have made to their roster in the offseason, and a full season of experience under his belt, Wentz' sophomore season could see him make a jump and finish much higher than his current ADP: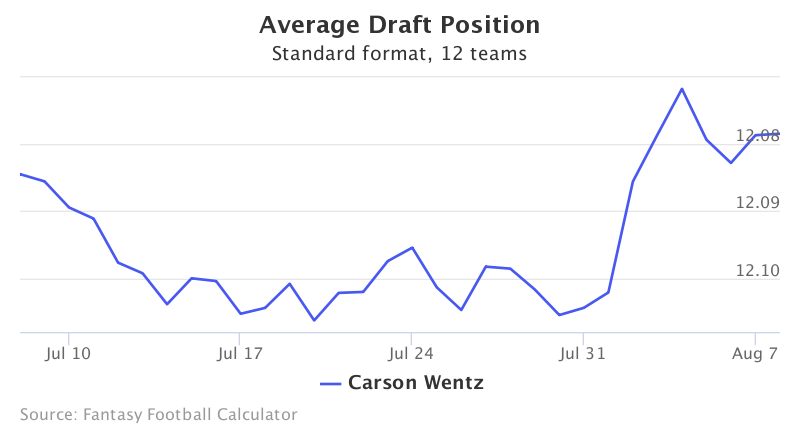 Alshon Jeffery could be a legitimate weapon on the outside for Wentz should he stay healthy and off the PEDs. Nelson Agholor has had such an incredible offseason that NFL Network's Daniel Jeremiah said he would "be shocked" if Agholor wasn't the Eagles starting slot receiver.
23. Jay Cutler
Group "Lots of garbage-time stats"
24. Brian Hoyer
25. Blake Bortles
Group "He's going to be the starter sooner rather than later, trust me"
26. Deshaun Watson
Group "What's the difference between these two?"
27. Joe Flacco
28. Mike Glennon
29. Paxton Lynch/Trevor Siemian
Group "Okay, hear me out, they really did a lot to improve their offensive line"
30. Brock Osweiler/Cody Kessler
Group "Goober"
31. Jared Goff
The Rams will continue to be an awful, terrible, no-good mess until they figure out how to use Jared Goff, or if he's even usable.
Also, I'd like to start a petition for Goff to never receive an awareness rating above '0' in Madden until he writes a piece for the Player's Tribune about the history of sundials, compasses, and time zones.
Group "How can it possibly get worse than the Rams' situation at quarterback?"
32. Josh McCown/Christian Hackenberg
Like this: