Instead of "political gaslighting" in this one, let me show off the full range of my brain.
Drafting a quarterback in fantasy football is a lot like farting in public: If you're going to do it, wait until it's absolutely necessary—and hope to god it doesn't stink. And if it does, it's best to deny it and blame someone else, drawing all the attention away from you in hopes of avoiding ridicule and shame.
This year, if you're cutting the cheese, it's best to stick with the Dairy State's very own Aaron Rodgers because he's probably the greatest quarterback of all-time. The only way a self-respecting Lions fan can acknowledge Rodgers greatness is if he's subsequently compared to farts because there's nothing anyone can do to diminish how great he is. Well, unless you're Anthony Barr.
Enough of the jokes, let's check into the quarterback position and see how it shakes out this year in fantasy football.
Editor's note: Before we get started, take a look at the running back rankings for 2018 here.
---
Tier 1 - The Elite
2017 stats: 64.7 completion percentage, 1,675 yards, 16 passing TDs, 6 INTs, 24 rushes, 124 yards.
Rodgers' start to the 2017 season was a bit pedestrian by his standards. Through the first seven games last year, Rodgers averaged just 17.9 fantasy points per game, good for ninth in the NFL, and then a collarbone injury effectively ended his season. Had Green Bay been in the playoff hunt last year, Rodgers probably would have been there down the stretch for the Packers, but that's neither here nor there. It's 2018, he's back and he's ready to once again be your league's QB1.
The cast of skill position players in Green Bay was shaken up a bit this offseason, and a few additions to the roster should help boost Rodgers' fantasy value.
Longtime favorite target of Rodgers, Jordy Nelson, is no longer a Packer after the team released him in March of this offseason, but rest assured, Rodgers still has some weapons at his disposal. Green Bay shelled out an extension for Davante Adams to the tune of $58 million over four years, making him the 10th-highest paid wide receiver in the league and the team's clear No. 1 wideout. In addition to extending Adams, the Packers also struck a deal with tight end Jimmy Graham in free agency. Still a tremendous red zone threat, Graham accounted for 35.1 percent of Seahawks targets in the red zone—the largest share of any player in the NFL—catching 16 passes of the 26 thrown his way for 10 touchdowns.
He does have a difficult draw in 2018, currently up against the second-most difficult schedule for quarterbacks, but Rodgers' revenge tour is something no one should be willing to bet against.
2017 stats: 59.1 completion percentage, 3,302 yards, 22 passing TDs, 16 INTs, 139 rushes, 754 yards, 6 rushing TDs
Newton's fantasy value took a nose dive in 2016 when the Panthers decided to scale back his workload as a runner, limiting him to just 90 carries—the lowest total of his career. As a result, Newton finished 14th among quarterbacks in fantasy points scored per game, his lowest ranking since joining the league in 2011. But things were righted last season when the Panthers brain trust wised up and turned Cam back into the dual-threat quarterback that makes him so special.
Finishing fifth in fantasy points scored per game in 2017 was an even more impressive feat for Newton than you probably remember. Greg Olsen missed nine games last year with a foot injury, Curtis Samuel fractured his ankle and tore ligaments—which isn't much better today—and the team's No. 1 wideout, Kelvin Benjamin, was dealt at the trade deadline to Buffalo. And even after all that, Newton proved to be the most important part of a Carolina team that somehow earned a trip to the playoffs.
The Panthers offense this year has a chance to be real special. Olsen is a top-five tight end in the league when healthy, Devin Funchess looked to be much more comfortable as an 'X' receiver after the Benjamin trade, rookie first-round pick D.J. Moore adds another wrinkle to the offense with his positional versatility, and the running back depth was upgraded with the addition of C.J. Anderson in place of Jonathan Stewart—and Christian McCaffrey with a year under his belt. With all of this talent on offense, 2018 could—and should—be Cam's best year in fantasy yet.
Also, this:
3.
Russell Wilson

- Seattle Seahawks

2017 stats: 61.3 completion percentage, 3,983 yards, 34 passing TDs, 11 INTs, 95 rushes, 586 yards, 3 rushing TDs

There's an overwhelming belief the Seahawks are going back to being a run-first offense after they spent their first-round pick in the 2018 NFL Draft on running back Rashaad Penny—who is now expected to be out for three to four weeks after sustaining a finger injury. That belief has some fantasy heads cautioning owners from valuing or drafting Wilson as an elite quarterback which is, to put it plainly, flat-out wrong.

From 2012—Wilson's rookie season—to 2015, Seattle was one of the most run-heavy offenses in the league, ranking first in 2012 (536 attempts), second in 2013 (509) and 2014 (525), and third in 2015 (500). Even during these seasons where the Seahawks offense was so run-centric, Wilson enjoyed huge fantasy success, finishing 11th among quarterbacks in 2012, 8th in 2013, 3rd in 2014, and another 3rd place finish in 2015. In 2017, the Seahawks were 21st in rush attempts with just 409 carries. Wilson himself handled nearly a fourth of the team's total rushes en route to claiming the top spot among fantasy quarterbacks last season.

No doubt about it, Wilson is still the focal point of the Seattle offense, whether they're committing to the run or not. He's one of the few elite players at the position who gives you a distinct advantage each and every week over your opponent.

Also, how exactly—and when exactly—did Russell Wilson switch up from herb in the tropical button down to being in the biggest viral video of the summer?
Tier 2 - Near Elite
2017 stats: 72.0 completion percentage, 4,334 yards, 23 passing TDs, 8 INTs, 33 rushes, 12 yards, 2 rushing TDs
The emergence of the youth movement was story in New Orleans last season with Alvin Kamara and Marshon Lattimore heading the charge and claiming Offensive Rookie and Defensive Rookie of the Year respectively. Beyond that, the Saints offense was powered by the best running attack in the league, their defense ranked eighth in DVOA and the team was one miraculous play away from the NFC Championship Game.
At 38 years old, Drew Brees' season in 2017 was placed on the backburner after he's been the Saints most talked about commodity for over a decade, but it was one of his most efficient seasons yet. Brees led the league in completion percentage (72.0, the highest mark of his career) and yards gained per attempt (8.1), but those numbers don't matter a lick when it comes to fantasy, where volume is king.
His 4.3 touchdown percentage was his lowest number since 2007, his second year in New Orleans, and the proof is in the numbers. Last year, Brees attempted 82 passes in the red zone, down from his 112 attempts in 2016. The prolific running game was surely to blame for the dip in chances for Brees, and that number should level itself out in 2018. After his down season, and his rankings on other websites—ESPN has him as their 12th ranked quarterback—he could be a guy available later than he should be, and quite the value at some point in your draft.
2017 stats: 60.2 completion percentage, 3,296 yards, 33 passing TDs, 7 INTs, 64 rushes, 299 yards
Carson Wentz tearing his ACL last year robbed him of the 2017 NFL MVP Award he definitely deserved, and we all missed out on seeing Wentz put the cherry on top of an incredible season. Injuries definitely suck. Firmly a part of "Team No More Injuries."
The Eagles are bringing Wentz along slowly during training camp because duh, but he participated in contact drills for the first time since his injury last December and that's only good news for his availability to start the 2018 season on the field—preseason be damned.
It's going to be awfully difficult for Wentz to replicate some of his gaudy statistical output from a season ago, especially the rate at which he was putting footballs into the end zone—his 7.5 touchdown percentage was by far the best mark among quarterbacks who played at least 13 games. But even with an assumed regression in that department, Wentz should still be in play as a top-five fantasy quarterback considering the strides he took as a passer last season, his above-average mobility, and the talent around him in Philadelphia.
(Full disclosure, you have to be concerned with the Eagles recent move at quarterback. #HACKENWATCH2018 leaves no man's job safe and secure.)
2017 stats: 66.3 completion percentage, 4,557 yards, 32 passing TDs, 8 INTs, 25 rushes, 28 yards
For Brady's fantasy stock, it's been about believing in what he's done in the past and trusting that it's all going to work out moving forward—which has proved to be more true than not over the course of his career. And as Brady's gotten older, he's maintained such a high level of play that it's just assumed he'll continue to play like he's 30, which, again, is hard to argue against.
But with all the pleasantries tucked away, let's get into why Brady shouldn't be one of the first five quarterbacks off the board in your fantasy draft. For starters, some will call the talent at the skill positions around Brady "deep," and yeah, sure, but that's only if you believe each of these players is the very best version of themselves. Rob Gronkowski has missed 10 games over the past two seasons, Chris Hogan—the team's No. 1 receiver to start this year—missed seven games in 2017, Julian Edelman missed all of 2017 with a torn ACL and is serving a four-game suspension to start 2018, and if you were holding your breath for a Jordan Matthews renaissance, he's on the IR with a hamstring injury. To deal with all of the injuries/suspensions, Eric Decker walked through that door, and it hasn't gotten off to the best of starts. Also, they drafted the wrong Georgia running back (h/t @alex_reno).
There's no denying Bill Belichick and Brady have gotten the most out of the talent they have in the cupboard, and I'm sure they're going to do it to some degree again in 2018, but it's a bit much for me to believe this group is such a surefire thing week in and week out to see Brady through to another top-3 fantasy finish among quarterbacks—as he has in 2015 and 2017. Over the final five games last season, Brady never finished better than 15th among quarterbacks in fantasy points against the likes of Buffalo, Miami, Pittsburgh, and the Jets—not exactly a murderer's row of defenses. Not so coincidentally, Brady was without Hogan for four of those games and Gronkowski in Week 14 when he was suspended for his hit on Tre'Davious White the previous week.
Yeah, Brady will probably be Brady and give you an advantage over other owners week to week, but there's a bit too much up in the air to believe he'll be in the top tier of quarterbacks by season's end.
Tier 3 - Great in the Right Spot
7.
Matthew Stafford

- Detroit Lions

2017 stats: 65.7 completion percentage, 4,446 yards, 29 passing TDs, 10 INTs, 29 rushes, 98 yards

Is it just me or has Stafford been, objectively speaking, a top-seven quarterback in fantasy the past two seasons?

*Checks notes*

Yeah, that checks out.

Here's the best thing about drafting Matthew Stafford to be your team's quarterback this year: He's going to be so completely undervalued that you won't even have to think about picking him until the ninth round, and by then, almost everybody has already made a worse decision at quarterback. As you read this, Stafford is getting selected after both Andrew Luck AND Jimmy Garoppolo. If Matthew Stafford was a fart, he'd be the first one you share in front of your significant other and not only are they cool with it, but they laugh, and they enjoy the moment for what it is. Experience that same type of joy when some dingus drafts Jimmy G or the shoulder formerly known as Andrew Luck, and you get a one-way ticket to the Matthew Stafford Experience. Drink it in, man.

2017 stats: 61.8 completion percentage, 1,699 yards, 19 passing TDs, 8 INTs, 36 rushes, 269 yards, 2 rushing TDs

Watson was the fantasy dynamo nobody could have ever seen coming last year, but a season-ending knee injury he suffered prior to Week 9 ended the incredibly fun and wild ride that was his rookie season.

He should be ready for Week 1, so toss the injury concerns to the side as he's been ahead of schedule throughout his rehabilitation process, but if you're expecting Watson to score 21 touchdowns in 26 quarters of play, readjust yourself. The Texans might have the worst offensive line in the NFL, and with Watson's small, albeit impressive sample size, it's easy to see why his ADP is where it currently sits, but do you also understand why him being the second quarterback off the board in drafts right now is a classic case of overvaluing?
2017 stats: 64.3 completion percentage, 4,093 yards, 27 passing TDs, 13 INTs, 49 rushes, 179 yards, 4 rushing TDs
If you would have told me Kirk Cousins had four rushing touchdowns last season, I would have said, "I don't believe you." If you would have followed that up by saying he ran for four touchdowns the year before that, I would have eliminated the phrase "catch lightning in a bottle twice" from my list of phrases. Then, if you would have said there was a season where Cousins ran for five touchdowns in a season, I would have told you this joke has gone on for far too long.
But he did. He really did do all of those things. It's unbelievable that he has the third most rushing touchdowns for quarterbacks over that stretch.
Cousins made the move to Minnesota from Washington this offseason, finally set free from the shackles of the franchise tag, but don't expect him to make some huge leap from a fantasy perspective. The Vikings should be a fairly balanced attack on offense with Dalvin Cook back and healthy, and Cousins has had his fair share of volume in Washington—throwing more passes in his three seasons as a starter than the Minnesota offense ever did over that same stretch.
2017 stats: 62.9 completion percentage, 284 yards, 1 INT, 7 rushes, 10 yards
The Chiefs didn't need to add Sammy Watkins to a roster that already had Tyreek Hill, Travis Kelce, and Kareem Hunt, but they did, and now everybody is in big, big trouble.
Much of the talk about Mahomes this training camp has been about all the interceptions he's throwing in camp, or his lackluster, ho-hum performance in his preseason debut in 2018. Ignore it. Ignore all of it. It's practice. There's going to be a learning curve for the second-year quarterback, but it's best he's getting these mistakes out of the way right now when the reps count but the stats don't matter. Remember: The Chiefs could have had another season of Alex Smith, but Andy Reid and Kansas City decided Mahomes would be ready.
Good enough for me.
2017 stats: 62.6 completion percentage, 4,515 yards, 28 passing TDs, 10 INTs, 18 rushes, -2 yards
No one will remember when you drafted Philip Rivers, not even yourself, but at the end of the year, when you realize he's a top-12 quarterback again for the umpteenth time in his career, you're going to be happy you had as reliable an option as Rivers at your disposal all season long.
Rivers may be without tight end Hunter Henry, but the Chargers still sport a plethora of weapons at the skill positions to make them a potent offensive attack. After cutting down on his turnovers in 2017—his 1.7 percent interception rate was the lowest of River's career—Rivers may be settling into a more calculated and conservative role as he enters the twilight of his career, which would bode well for his fantasy output.
2017 stats: 64.2 completion percentage, 4,251 yards, 28 passing TDs, 14 INTs, 28 rushes, 47 yards
For the first time since 2014, Roethlisberger was finally healthy enough to play all 16 games last season, but he didn't get the chance to hit that mark. Landry Jones would end up getting the nod in a meaningless season finale against the Browns, keeping Ben from cracking the top 10 for the first time since 2014.
From a points per game perspective, Roethlisberger has consistently been a QB1 over his career, but with his 13 games missed due to injury over the past eight seasons, he hasn't been able to put himself into the discussion among the elite quarterbacks in fantasy—a place where someone in your league always seems to value him each year.
If Roethlisberger can manage to put together another healthy season, he should be able to put himself into the discussion for QB1 with perhaps the best collection of skill players of any offense in the league.
Tier 4 - Risk and Reward
2017 stats: 62.9 completion percentage, 3,324 yards, 22 passing TDs, 13 INTs, 57 rushes, 357 yards, 6 rushing TDs
Virtually everyone is pretty down on Dak after the disappointing follow up to his breakout rookie season. Buy low on Prescott if you're looking for a backup quarterback with upside for this reason: an unsuspended Ezekiel Elliott. From Week 9 through Week 14, Prescott put up just 13.9 fantasy points per game—22nd among quarterbacks—with Zeke sidelined by suspension. In the first eight games of the season, Dak Prescott was every bit a QB1, posting 20.8 fantasy points per game, good for fifth among all quarterbacks.
The Cowboys offense is a bit hampered with a lack of proven talent at the skill positions outside of Elliott, and they'll be counting on contributions from a lot of new faces. Dallas drafted Michael Gallup in the third round of this year's draft, and also signed veteran Allen Hurns after he was released by Jacksonville in March. All that being said, Dak has the potential to be a QB1 should the offense clicks early, but he'll be a great backup option that should be available rather late in most drafts.
2017 stats: 64.7 completion percentage, 4,095 yards, 20 passing TDs, 12 INTs, 32 rushes, 143 yards
Matt Ryan had one of the best seasons you'll see from a quarterback in 2016, and not a single person saw it coming. He posted career highs in virtually every category and the Falcons had arguably the best offense in the league's history, but nobody had a clue it was going to happen. Matty Ice's ADP in 2016 ranked him 20th among quarterbacks, narrowly edging out Ryan Fitzpatrick, Ryan Tannehill, Robert Griffin III, and Brock Osweiler—all of these players failed to come within 150 fantasy points or more of Ryan's 2016 total.
This isn't all that relevant to Ryan's outlook for the upcoming season, maybe not even remotely related, but it's cool to remember that there was a season where Matt Ryan was a definite QB1 and gave fantasy owners a legitimate advantage. Without Kyle Shanahan, Ryan's fantasy points per game plummeted, dropping from 21.7 to 14.3. The addition of Calvin Ridley isn't going to do much to change that, and with how often the Falcons call on their running backs in the red zone—57 rushing attempts in 2017—it's tough to project Ryan being much more productive than he was in 2017 without some serious touchdown luck.
2016 stats: 63.5 completion percentage, 4,240 yards, 31 passing TDs, 13 INTs, 64 rushes, 341 yards, 2 rushing TDs
He's back, but is he back? It's been over a season since we've seen Luck play quarterback, but hasn't it seemed like at least five years? It's probably because the back-and-forth between Luck and ownership over the status of his shoulder has been front page NFL news at each and every turn, or maybe it's because Luck is #actuallygood and good for the league even though some of us at Pride of Detroit take umbrage with him always being ranked over hometown hero Matthew Stafford in people's lists.
Newsflash, people, the only lists that matter happen on the PODcast.
But here's the deal with Luck in 2018: If you're drafting him like he's going to return to being the player he was before injury—one of the top five quarterbacks in fantasy—kudos to you for having guts, but you better be investing some valuable draft capital on a reliable contingency plan because you don't know what kind of Luck you're getting.
Ha!
2017 stats: 62.1 completion percentage, 3,804 yards, 28 passing TDs, 7 INTs, 28 rushes, 51 yards, 1 rushing TD
The original goober, Goff proved to be a reliable quarterback in fantasy in his sophomore season. He fell just short of being a top-10 quarterback in points per game after taking a huge step in the right direction. Then again, that happens with just about every player who removes the claws of Jeff Fisher from their flesh e.g. Case Keenum.
The Rams made a ton of moves in the offseason, mostly reworking their defense, but they did make a splash on offense, picking up dynamic wide receiver Brandin Cooks from New England. With a season of experience in Sean McVay's offense under his belt, Goff should have room to become more efficient, but with a player like Todd Gurley in the backfield, it becomes a question of volume. Situationally, Goff should be able to provide you with a few favorable matchups as a reliable QB2.
2017 stats: 67.5 completion percentage, 4,042 yards, 26 passing TDs, 5 INTs, 60 rushes, 355 yards, 1 rushing TD
Through Week 8, Alex Smith was the No. 1 quarterback in fantasy, but he wasn't even getting picked in the majority of drafts last season. Jay Cutler, Carson Palmer, and Andy Dalton were all getting the clicks instead of the guy who was outpacing the rest of his position group almost halfway through the season.
After the trade to Washington this offseason, Smith makes his way to a team with decidedly less weapons on offense than his former team the Chiefs, but he does have some talent to work with. Chris Thompson and Jamison Crowder, who are among some of the best in the league at gaining yards after the catch—ranking 12th and 27th respectively—will set up nicely for a quarterback who operates with incredible precision in the short game like Smith. Also, it must be nice for Washington to finally get a quarterback who is there for the foreseeable future, something Thompson mentioned about Smith's arrival in town.
2017 stats: 62.6 completion percentage, 2,799 yards, 14 passing TDs, 4 INTs, 84 rushes, 427 yards, 4 rushing TDs
I'll tell you this right here, right now: Tyrod Taylor is probably too low on this list, but you'll disagree because Tyrod gets close to no respect as a starting quarterback despite things like statistics and stuff like that.
The Browns have been adamant about Taylor being their starter even though they drafted Baker Mayfield first overall in this year's draft—and he's been doing everything he can to prove he's ready to be a starter in the NFL with his performance during training camp.
Taylor is the right guy for the job in Cleveland as they begin to turn things around, and for your fantasy team, with the weapons around him, Taylor is a top-tier streamer with low-end QB2 potential.
2017 stats: 67.4 completion percentage, 1,560 yards, 7 passing TDs, 5 INTs, 15 rushes, 11 yards, 1 rushing TD
For all the attention Jimmy G has received since he ended last season as the 49ers' starting quarterback, leading the team to a 5-0 record, Garoppolo's numbers during those games just don't measure up to his ADP in 2018.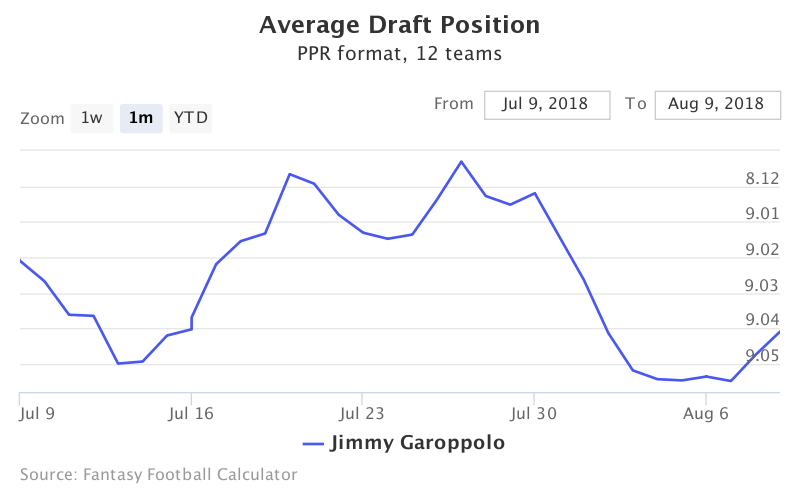 Peaking near the end of July as an eighth round pick in drafts, Garoppolo's ADP has since cooled down a bit, but owners still have him valued ahead of much more proven fantasy commodities like Matthew Stafford, Matt Ryan, and Philip Rivers. Add in the fact Garoppolo has one of the most difficult schedules for a quarterback in 2018—25th overall—it just doesn't make sense to put your faith in Garoppolo's potential.
San Francisco did make a concerted effort to put some beef in front of Garoppolo, signing center Weston Richburg away from the Giants and drafting Mike McGlinchey with the ninth overall pick in this year's draft, but the team has just too many questions at the skill positions for me to believe Jimmy G will be anything more than a QB2 this season.
Tier 5 - In Case of Emergency
2017 stats: 62.0 completion percentage, 3,232 yards, 13 passing TDs, 15 INTs, 60 rushes, 312 yards, 5 rushing TDs
Outside of choosing Andrew Luck early in your draft, it doesn't get much riskier than hitching your wagon to Marcus Mariota. Much like no one being able to predict the breakout season Matt Ryan would have in the 2016 season, no one could have foreseen Mariota taking the massive step back he took last season. Mariota wildly underperformed, throwing for more interceptions (15) than touchdowns (13), and finishing 18th among quarterbacks in fantasy points scored.
2018 could be a bounce back season for Mariota, or it could be another disastrously pedestrian season for a player who showed a ton of fantasy potential early in his career. Draft accordingly.
2017 stats: 60.2 completion percentage, 3,687 yards, 21 passing TDs, 13 INTs, 57 rushes, 322 yards, 2 rushing TDs
Once a top-five quarterback in fantasy football—no, seriously, it happened in 2015—Bortles is no longer the team's top priority on offense which nearly deflates his stock. However, for the past three seasons, Bortles has been, at the very least, a QB2 each season and it's been this way for a couple of reasons. One, his production on the ground has been consistent, running for 310-plus yards in each of his past three seasons, and scoring at least two rushing touchdowns each of those years (seven total). The other way Bortles has managed to be fantasy relevant is with volume and maintaining a positive touchdown-to-interception ratio.
So why isn't Bortles slightly higher? The worry for Bortles this season is his volume of pass and rush attempts dips even further with a healthy Leonard Fournette available for 16 games. Still, he has the potential to fit on rosters in deeper leagues because chances are he won't be there on the waiver wire when you're looking for a quarterback to stream.
2017 stats: 59.4 completion percentage, 2,193 yards, 7 passing TDs, 7 INTs, 41 rushes, 248 yards, 2 rushing TDs
As an asset on loan from their owner, the Detroit Lions, the Chicago Bears are counting on a big leap from Mitch Trubisky for their offense to get off the ground—literally.
Last season, the run-heavy Bears offense, combined with John Fox's training wheels, really limited Trubisky's production and development. With head coach Matt Nagy coming in from Kansas City, and all of the additions to the offense to make it more vertical—Allen Robinson, Trey Burton, and Anthony Miller to name a few—Trubisky will absolutely get the chance to show he's an NFL quarterback this season. However, it would be helpful to learn who his new teammates are this season.
Mitch Trubisky not recognizing that he's signing an autograph for his own backup quarterback is my favorite preseason highlight pic.twitter.com/urm5KDfXKr

— Pete Blackburn (@PeteBlackburn) August 8, 2018
That being said, Trubisky isn't anything more than a waiver wire target to start the season, but still, pay close attention to his first couple of starts to determine if he's worth stashing; Trubisky currently has the fourth-easiest schedule for quarterbacks in fantasy which should boost his value this season.
2017 stats: 67.6 completion percentage, 3,547 yards, 22 passing TDs, 7 INTs, 40 rushes, 160 yards, 1 rushing TD
Last season was a banner year for Keenum in Minnesota, as he set personal career marks in just about every statistical category. Instead of bringing him—or any other Vikings quarterback—back for the 2018 season, the team went in another direction and Keenum ended up in the AFC West with the Broncos. He finished last season ranked 14th among quarterbacks in fantasy points with pretty average volume totals which likely stand to increase in 2018, so the the question is this: Can Keenum succeed with decidedly less talent in Denver?
Demaryius Thomas and Emmanuel Sanders certainly aren't Adam Thielen and Stefon Diggs in terms of talent, and Denver's running game isn't in the same neighborhood as what Minnesota has in Dalvin Cook and Co., but Keenum, with that uptick in volume in prospect, has more than enough to succeed this season. Keenum is also set up with the ninth-easiest schedule for quarterbacks in 2018, so if you're nearing your draft's end and need to fill the position, you could do a lot worse than Keenum to begin your season.
2017 stats: 61.6 completion percentage, 3,468 yards, 19 passing TDs, 13 INTs, 12 rushes, 26 yards, 1 rushing TD
Perhaps Eli's last hurrah in New York, the Giants couldn't possibly be any more loaded at the skill positions—and have probably never been stacked quite like this since Manning arrived in New York. If there was a season for Manning to have a career renaissance of sorts, this would be the year to do it.
Manning posted a pair of top-10 finishes in 2014 and 2015, but hasn't had a top-20 finish among quarterbacks since then, but as mentioned, the talent around him is probably at an all-time high for his career, so he could very well play himself onto fantasy rosters this season.
2017 stats: 67.6 completion percentage, 3,547 yards, 22 passing TDs, 7 INTs, 40 rushes, 160 yards, 1 rushing TD
Last offseason, Derek Carr set the market for quarterbacks for a short time, signing a five-year, $125 million contract in June. If not for the unfortunate injury Carr suffered near the end of 2016, who knows what kind of noise the Raiders could have made in the playoffs that year, but what we did find out in 2017 is when Carr has to play through injuries, like most other players, he's less than good.
Carr's supporting cast is less than its been in previous seasons heading into 2018, and with Jon Gruden taking over as head coach, it wouldn't surprise anyone to see the Raiders shift towards a more run-heavy offense. Carr struggled with efficiency last year, and some of that was due to the nagging injuries, but with an expected dip in volume, it's hard to envision Carr as anything more than having QB2 ceiling.
2017 stats: 59.9 completion percentage, 3,320 yards, 25 passing TDs, 12 INTs, 38 rushes, 99 yards
Don't we all know what we're getting out of Andy Dalton at this point? 2013 is so far in the rearview, and so clearly an outlier, that it's safe to assume Dalton will be what he is at this point: The quarterback you don't love starting when your starter is on bye, but usually the one with the highest floor because he has A.J. Green and some other interesting pieces at the skill positions.
2016 stats: 67.1 completion percentage, 2,995 yards, 19 passing TDs, 12 INTs, 39 rushes, 164 yards, 1 rushing TD
Tannehill tore his ACL on the first day of training camp last year, which ended up being a death blow to a team that surprised many and made the playoffs in their first year under head coach Adam Gase. The Dolphins improved offensive line kept Tannehill upright more than he had been in his entire career, being sacked a career-low 29 times in 13 starts, and it resulted in the highest completion percentage of his career (67.1).
Jarvis Landry was traded to Cleveland in the offseason, so it's up to DeVante Parker to shoulder the load in Miami and live up to his billing as the 14th overall pick in the 2015 NFL Draft. If the offensive line can help keep Tannehill clean, and he develops a good rapport with Parker, his new No. 1 wide receiver, Tannehill has some streaming potential in 2018.
2017 stats: 64.1 completion percentage, 3,141 yards, 18 passing TDs, 13 INTs, 25 rushes, 54 yards, 1 rushing TD
Initially, Flacco's spot seemed like the most at risk among the veteran quarterbacks trying to fend off incoming rookies. Lamar Jackson's preseason hasn't gotten off to the start many expected for the former Heisman winner. So we're left with one of the worst quarterbacks in the NFL—who happened to have one of the best postseason performances by a quarterback in a contract year and break the bank—back and starting in Baltimore.
Lame.
The Ravens made a concerted effort this offseason to add more skill position players, drafting two tight ends in their first four picks—Hayden Hurst at 25th overall and Mark Andrews at 86th overall—and adding wide receivers Michael Crabtree, John Brown, and Willie Snead in free agency. Maybe it will make a difference for Flacco, who has finished no better than QB20 over the past three seasons—and has never been a top-10 fantasy quarterback in his career—but don't count on it.
2017 stats: 74.4 completion percentage, 382 yards, 3 passing TDs, 2 rushes, -3 yards
If it wasn't for Sam Bradford being the veteran quarterback in Arizona, or rookie Josh Rosen as the backup, it'd be much easier to like a Cardinals quarterback for fantasy purposes. It's pretty clear Bradford will be the starter—the Cardinals gave him $20 million on a one-year deal and Christian Kirk, the team's rookie receiver, expects Bradford to be the starter—but given his history with injuries, it's hard to put much faith into him being a season-long contributor.
Though he's not worth drafting, if Bradford can manage to be healthy for a significant stretch of the season, he does have the upside of a bona fide QB2, especially with the skill position players in Arizona.
2017 stats: 63.8 completion percentage, 3,504 yards, 19 passing TDs, 11 INTs, 33 rushes, 135 yards, 1 rushing TD
Suspended for three games after groping an Uber driver—which he lied about.
2017 stats: 67.3 completion percentage, 2,926 yards, 18 passing TDs, 9 INTs, 37 rushes, 124 yards, 5 rushing TDs
At this point, the Jets quarterback job is completely up in the air. It seemed like when the Jets signed McCown, he was the surest bet to be the team's signal caller. Teddy Bridgewater is a reclamation project—one that'd be great to see happen—and Sam Darnold was the youngest quarterback drafted in this year's draft. So simply by familiarity and experience, McCown seemed like the guy.
But, of course, Bridgewater has looked sharp in training camp, and Darnold looked ahead of the curve in the team's first preseason contest, leaving this whole situation too volatile for fantasy considerations. Check back with the Jets after the preseason, and even then, tap them for use on a week-to-week basis.
2017 stats: 50.0 completion percentage, 66 yards
This quarterback job in Buffalo, much like the situation in New York with the Jets, is all but decided until the end of the preseason. But if the Bills choose to end their season before it even gets off the ground by throwing rookie Josh Allen in the fire, you can continue to ignore them from a fantasy perspective—just like you would with the Jets.
But by all means, enjoy the show along the way.
In all seriousness, with so little talent at the receiver position, and the Bills offensive line undergoing a massive overhaul, it's best to look elsewhere for quarterback play.